craigdobbins.com
Fingerpickin'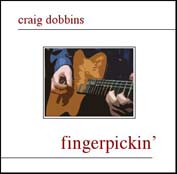 a review by Eddie Pennington
Did I ever have a good afternoon yesterday! I got Craig Dobbins' new CD Fingerpickin in the mail. I put it on, and I felt like I was 17 or 18 again, listening to a new Chet 8 track tape in my old 1959 Ford Galaxie. I miss those days, hearing new songs that I had never heard, and wondering if I'd ever be able to play them. Chet played those Reed things and it would make the hair stand up on the back of my neck it was so good.
Well, when I started off Craig's CD it didn't take but a few seconds until I was in that frame of mind. This boy plays straight out of his heart. Nothing mechanical here, it's all music that has run out of his veins to the strings.
Funny how you are around somebody and they do certain things, like Craig mainly teaches. Or he teaches so good that you think of him as a teacher. Well, that nice, easy going teacher can slip right up behind you and eat your lunch on the guitar. Anyway, this is a CD that might get worn out pretty fast because it's gonna get played alot.
Anyway in my opinion a fellow that plays like Craig Dobbins sure does his part to keep Chet's and Jerry's music alive, and of course adds his own twists as well.
- Eddie Pennington
Award-winning Travis picker Eddie Pennington is widely recognized among his peers as one of the greatest living thumbstyle guitarists.
---