craigdobbins.com
Fingerpickin'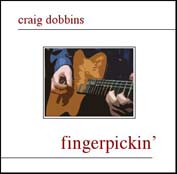 a review by Bill Park
Mastering the guitar styles of Chet Atkins and Jerry Reed is not easy. It calls for a keen sense of rhythm, an impeccable use of timing, and a superb awareness of tone. Not to mention the fact that its best practitioners are unusually gifted with a whole bunch of talent. Craig Dobbins is a guitarist that has it all, and he has been a leading force in the style for many years - publishing transcriptions through his Acoustic Guitar Workshop newsletter and recording some of the most listenable fingerstyle guitar to be found. His new CD - Fingerpickin' - ranks right up there with the best, and also reveals that Dobbins' skill as a writer are worthy of praise as well. 19 original tunes here, and each one is an unqualified winner. Whether Craig is wowing you with some intricate Reed-style rhythms on That's My Boy, or watering up your eyes with the hauntingly beautiful Luayne, or causing your foot to tap uncontrollably with Chester, this outstanding compilation of fingerstyle guitar instrumentals will make every listener realize that Craig Dobbins merits and deserves recognition as one of the finest practitioners of the complicated guitar style. Highly recommended.
- Bill Park (originally posted on Amazon.com)
St. Louis-based guitarist Bill Park is himself an authority on the styles of Chet Atkins and Jerry Reed. His playing has been featured in Fingerstyle Guitar Magazine.
---