A Visit with Rick Foster
by Julie S. Dobbins
"At the debut of the Contemporary Christian Music scene Rick Foster was in the forefront as a solo classical guitarist playing an entirely sacred repertoire. He was the first to play a full concert of sacred music on the classical guitar and the first to arrange and record an album of sacred music for solo guitar. That album, Hymns for Classic Guitar, was a milestone in guitar recordings. Fingerstyle guitarists around the world appreciated being able to obtain arrangements of some of their favorite hymns and sacred music, which up to this time were unavailable.
Rick's skillfully crafted music has drawn a Dove Award nomination from the Gospel Music Association for Gospel Instrumentalist of the the Year and he has appeared as a guest of the 3 Angels Broadcasting Network. Many readers of Fingerstyle Guitar Magazine have enjoyed his columns regarding various aspects of performing and arranging sacred music for the guitar . . ."
So begins Rick Foster's impressive biography. In spite of his accomplishments, Rick is a very humble man and I highly recommend visiting his website to learn more about him and the materials he has available. For those of you who are Chet Atkins fans, you will probably enjoy the pages that are accessible through the Chet and Rick button. There are photos, reminisces, and some letters that Chet wrote to Rick over the years.
Rick is also an accomplished gardener, which is barely mentioned on his website. He combined his love for both the guitar and gardening on the DVD At Home With The Guitar. The following questions were inspired by the wonderful blend of Rick's guitar playing and awesome garden.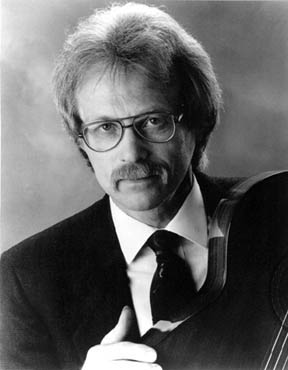 How does having a garden affect your touring schedule?
The garden and yard take up most of my time. There are 45 fruit trees plus lots of berries, grapes, and summer and winter vegetables. During the 20 years that we toured, our concerts were always scheduled for the winter months since we couldn't leave here much in the summer or everything would dry up and get smothered by weeds. During the concert season I'd come home and spend every spare minute between practice sessions pruning fruit trees, grapes, etc., and just trying to stay afloat, so to speak. The schedule was very demanding and I often envied Segovia, who arranged his life to center around music instead of farm work. Luckily, I realized that I didn't have the talent of a Segovia, Parkening, Willliams or Atkins and had better not put all of my eggs into one basket. The garden has enabled us to live a good life without having to get a job to buy food. We lived for years as a family of 4 spending less than $1,000 per year on food. We grow 90% of our fruits and vegetables, make our own bread, and keep our spending down.
With all of the gardening that you do, is there anything special you do to protect your hands?
I always wear gloves while working. My right hand suffers greatly from the farm work. Just this week we took down a dozen big trees and my entire week has been spent with a chain saw and splitting maul. The wood had to be cut, split, stacked, and then all the brush and branches drug to the burn pile. All of this doesn't seem to bother my left hand, but leaves my right hand so stiff that playing well is out of the question. Even as I write my right hand keeps getting numb and I have to stop and shake some blood into it in order to get all these questions answered. At times I'm tempted to complain, but deep down I'm thankful for the wood, the great food, the beautiful Oregon valley were we live, and the opportunity to share my music with others -- especially other guitar players.

I was amazed with the variety of fruits and vegetables shown in your video "At Home With the Guitar." Is there anything you don't grow?
We don't grow grains, seeds, nuts, legumes, butter, oil, salt, and a few other odds and ends that we eat regularly, but we do grow apples, pears, cherries, plums, figs , persimmons, peaches, blueberries, gooseberries, raspberries, grapes, and many other fruits and vegetables.
Have you always been vegetarian?
I was raised eating meat 3 times a day, but when I began having health problems in my early twenties I gave up milk and most meat and became mostly vegetarian. My wife is almost completely vegan, but she will eat steelhead and salmon when I'm lucky enough to catch one. Our friends give us elk meat, but she won't touch it, which just goes to show that she's not perfect.
What do you think of that Craig Dobbins guy?
The two things I remember most about meeting Craig at the Atkins Convention in 2005 is that my neck got sore from looking up (he must be 7 feet tall) and that he's a major talent with beautiful tone and a great feel for the music. He also seemed like a nice man.
(Note: Craig is actually 6'7" so a lot of people "look up" to him. Personally, I think he's a nice man, too - most of the time.)
When did you become a Christian?
I was baptized at the age of 6 at a Baptist church in Lancaster, Texas, and believe that God has had his hand on me ever since. I often wonder why He inspired me to be both a guitar player and gardener, since my guitar playing seems to suffer due to the gardening. I'm constantly amazed at how He has used my small allotment of talent to create a large body of sacred music for solo guitar. I'm also very thankful for all of my fellow players like Craig who have given me ideas for great arrangements.
Do you have a favorite arrangement of your own?
Not really. A great deal of care and work goes into each arrangement and I love each one like a close friend. In fact, I sometimes think that my guitars and arrangements are my best friends other than my close to perfect wife, who may be the only true friend I've ever had.
Have you always been a Christian musician?
The first song I learned was Cash's "I Walk the Line" which was followed by sixties rock tunes. When I was 16 my Mom gave me 2 LP's for my birthday - one by Chet and the other by Segovia. The Chet album, "Chet Atkins Plays Back Home Hymns," opened my eyes to the possibility of playing hymns on guitar, and marked the beginning of my journey as a Christian musician. I still love Elvis, Bob Dylan and a lot of the late 50's and 60's rock tunes that I taught for years after beginning to teach at Ontario Music in California at the age of 18. As I got older and started thinking about the meaning of the music that I played, "You Ain't Nothin' But A Hound Dog" didn't seem to speak to me as much as songs like "Amazing Grace." I believe that the music I'm playing today is inspired by the Lord. Most of the classical music that I learned as a guitar major in college has lost my interest, but I love the sacred music more all the time. There's nothing I'd rather do than grab a guitar, go out on the deck overlooking our garden, and practice for a few uninterrupted hours.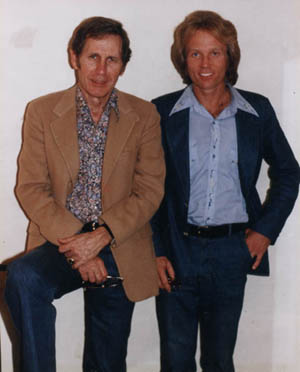 Have you ever gone through a period of time when you didn't enjoy playing your guitar?
I've never gone through a time when I didn't enjoy the guitar, but after months of non-stop 5-hour practice days preparing for and going on concert tours, a couple of days off were always nice. During the concert years I often became so exhausted that I could barely play, but after a few days off my mind would clear and I'd be chomping at the bit to get back to it. A lot of my practicing was done from the passenger side of our van as my wife drove to the next church. It was very demanding both physically and mentally, but in those days I still had lots of energy. Now that I am an old man in my early sixties, I have to be careful not to over load myself.

Do you have any instruments that are particularly special to you?
My favorite all time guitar is an old Ramirez that Leona Atkins gave me after Chet died. That guitar inspired me to get back to playing and was featured on my "Rick Foster's Remembrance of Chet Atkins" album. It's also being used on a new album of hymns that's about 3/4 finished which will feature a couple of Craig Dobbins arrangements.
(As of August of 2008, Rick anticipated finishing his new CD sometime in 2009. Check his website from time to time for the release date.)

Copyright © 2008 by Julie S. Dobbins.
Visit Rick Foster's website.
Romans 8:38, 39 (one of Rick's favorite Bible passages)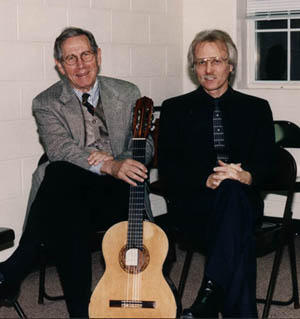 ---